Thornton Dial: Thoughts on Paper
Ackland Art Museum
March 30 – July 1, 2012
While most recognized for his large scale, multi-media assemblages, Thornton Dial's drawings are his most prolific body of work, spanning from the early 1990s into the present. Organized by the Ackland Art Museum, Thornton Dial: Thoughts on Paper will feature 50 of Dial's earliest drawings from 1990-1991, a pivotal moment in his artistic career.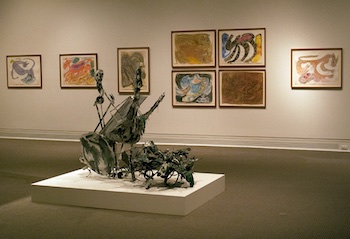 The Ackland Art Museum is well known for its extensive collection of works on paper and in particular, its outstanding collection of drawings, making it a natural venue in which to explore this less-known but highly significant portion of Dial's oeuvre. The works in the exhibition – characterized by flowing lines, color washes, and images of women, fish, and tigers – provide a touchstone of Dial's creative process.
A fully-illustrated book, Thornton Dial: Thoughts on Paper, co-published by the Ackland Art Museum and The University of North Carolina at Chapel Hill, will be available. The book is edited by Bernard L. Herman, with contributions by Bernard L. Herman, Juan Logan, Glenn Hinson, Colin Rhodes, and Cara Zimmerman.