In order to develop and foster cultural tourism and economic development, Souls Grown Deep and the University of Alabama Center for Economic Development are leading an effort to install a signage program in the Gee's Bend area.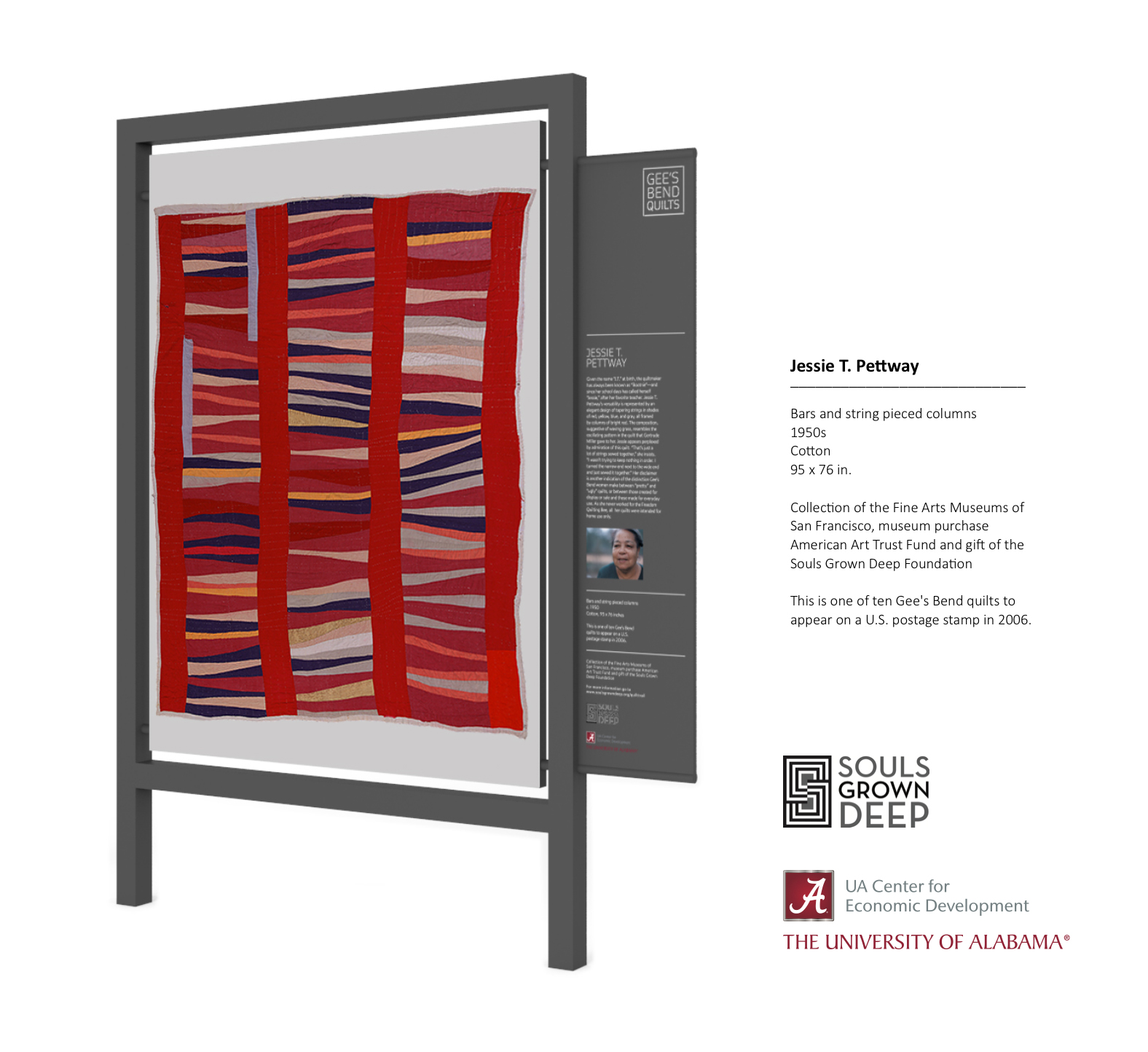 Souls Grown Deep and The University of Alabama Center for Economic Development are leading an effort to upgrade and expand signage along the Gee's Bend Quilt Trail. The project will begin by replacing existing signs erected to commemorate the 10 Gee's Bend quilts that appeared on U.S. postage stamps in 2006. From there, signs will be erected to commemorate quilts placed by Souls Grown Deep Foundation in the permanent collections of major museums, including The Metropolitan Museum of Art, the Fine Arts Museums of San Francisco, the Philadelphia Museum of Art, and the High Museum of Art.
In addition, signs will demarcate features important in the Gee's Bend community, including the Gee's Bend Quilting Collective; The Freedom Quilting Bee, founded in 1966 as a Black women's cooperative to bring badly needed jobs to the community; Sand Hill, the site of the former Pettway Plantation house; locations where families of quilters settled; remaining examples of the Roosevelt Administration's Depression-Era efforts to improve the quality of life in the area; the Pleasant Grove Baptist Church where Dr. Martin Luther King, Jr. spoke to an eager congregation of quilt makers and other residents in February 1965; and the Gee's Bend ferry, which became a flashpoint in the Civil Rights Era when service was discontinued to prevent residents of the Bend from voting.
Gee's Bend Cultural Trail sign design by Pentagram, the world's largest independently-owned design studio.